Coway's campaign on iTalk TV platforms successfully boosted its brand awareness by targeting regional audiences in California, New York, and New Jersey.

California, New York, and New Jersey represented the largest Chinese-speaking communities in North America. Geographically, iTalkBB Media has a significant targeting capability to reach the vast Chinese user base in the regions. Therefore, the campaign was delivered successfully to the target viewers broadly in a blink through the iTalk TV Platforms.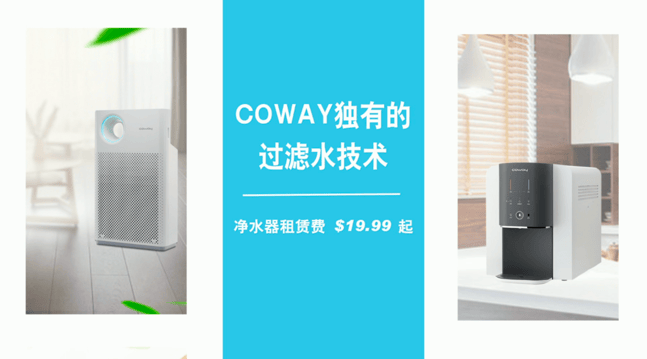 Background

Coway is a home-wellness appliance brand that designs and manufactures award-winning products. Coway values customer wellbeing at the heart of its business philosophy and strives to provide customers with happier and healthier lives.
Backed by the world's largest water and air R&D infrastructure, Coway currently offers products in 6 Asian countries as well as overseas markets such as the US and Europe. Coway's flagship products include water purifiers and air purifiers. Coway's water purifiers were the first in Asia to receive National Sanitation Foundation (NSF) certification. Additionally, the popularity of Coway's air purifiers remains apparent with one being sold every 31 seconds over the past four years.
Coway has been growing in the North American market since 2007 with a total of 6 physical stores located in southern California and New York. This resulted in Coway's strategy to expand deeper into the Chinese American market, focusing on regions with dense Asian populations.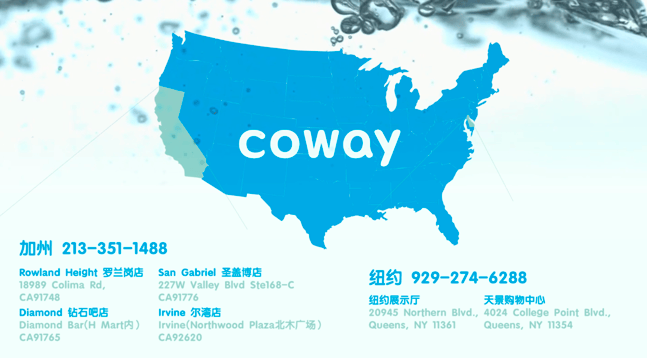 Accurate Targeting Solution

Coway was able to access iTalk TV Platforms' 22% user base in the Greater New York area and 20% user base in the Greater Los Angeles area to accomplish their targeting goals. The campaign presented 30-second video ads, pause ads, and in-app banner display ads.
Besides the ad solutions on iTalk TV Platforms' streaming services, Coway also implemented exclusive promotional email campaigns and static ads displayed in iTalkBB's physical stores. Meanwhile, iTalkBB Media didn't just deliver the campaigns but also managed the ad productions. Our creative team produced in-language, on-brand ad content for Coway's campaigns which increased the connectivity with our Chinese-speaking audiences.
In addition, at 2022's annual Asian American Expo, iTalkBB's booth introduced Coway's high-quality wellness products to Asian consumers in person, which further boosted Coway's brand awareness in the market.
---

iTalkBB Media is a leading marketing and advertising source offering unique advertising opportunities to businesses penetrating the Chinese consumer market in North America. As a member of the iTalk Family Companies, it has exclusive advertising rights for placement of advertising on its affiliate companies' state-of-the-art Set-Top-Box (iTalkBB Chinese TV) and streaming (iTalkBB TV) Chinese language platforms (the "iTalk TV Platforms").
iTalk TV Platforms are the largest licensed Chinese-language television and streaming services in North America. iTalk TV Platforms are boutique ad-supported video-on-demand (AVOD) platforms with options of free and subscription tiers offering various Chinese streaming content through their Set-Top-Box platform and digital platforms on the web and mobile app versions. By reaching 2 million users, the services entertain audiences with a curated collection of movies, TV shows, original content, and in addition to 30+ live streaming channels.
iTalkBB Media provides a wide range of multi-formatted advertising solutions for businesses to make their brands even more visible. Our enhanced ad-viewing experiences allow marketers to explore new-found interactive campaign formats with data-driven processes. To learn more, please don't hesitate to contact our representatives. Contact Us