Knorr's sweepstakes campaigns have successfully generated a significant amount of entries through its branded channel that contains a series of cooking shows on iTalkBB TV.
"iTalkBB Media is one of the major media partners that contributed to the recent success of our client's promotional campaign. From offering strong, relevant content, to digital media placements, iTalkBB Media worked diligently with us to provide solid recommendations. We are grateful to have them be a part of this campaign and look forward to achieving more success together in the future," Knorr's multicultural agency commented.
Background

Knorr, a Unilever brand since 1838, has become an international brand offering a wide range of bouillons, soups, seasonings, sauces, soupy snacks, dressings, and frozen and ready-made meals. The partnership between Knorr's agency, Mikado International, and iTalkBB Media traces back to 2015 when Knorr launched its first Lunar New Year campaign on iTalkBB Chinese TV's Set-Top-Box.
Over the past 7 years, Knorr and Mikado have launched various campaigns, sponsorships, and events on iTalk TV Platforms. In addition, Knorr launched two sweepstake events during the 2021 and 2022 Lunar New Year. iTalkBB Media was one of Knorr's media partners that promoted its campaigns by delivering robust, relevant content and ad placements. Together, the collaborations keep innovating outside of the box and breaking boundaries.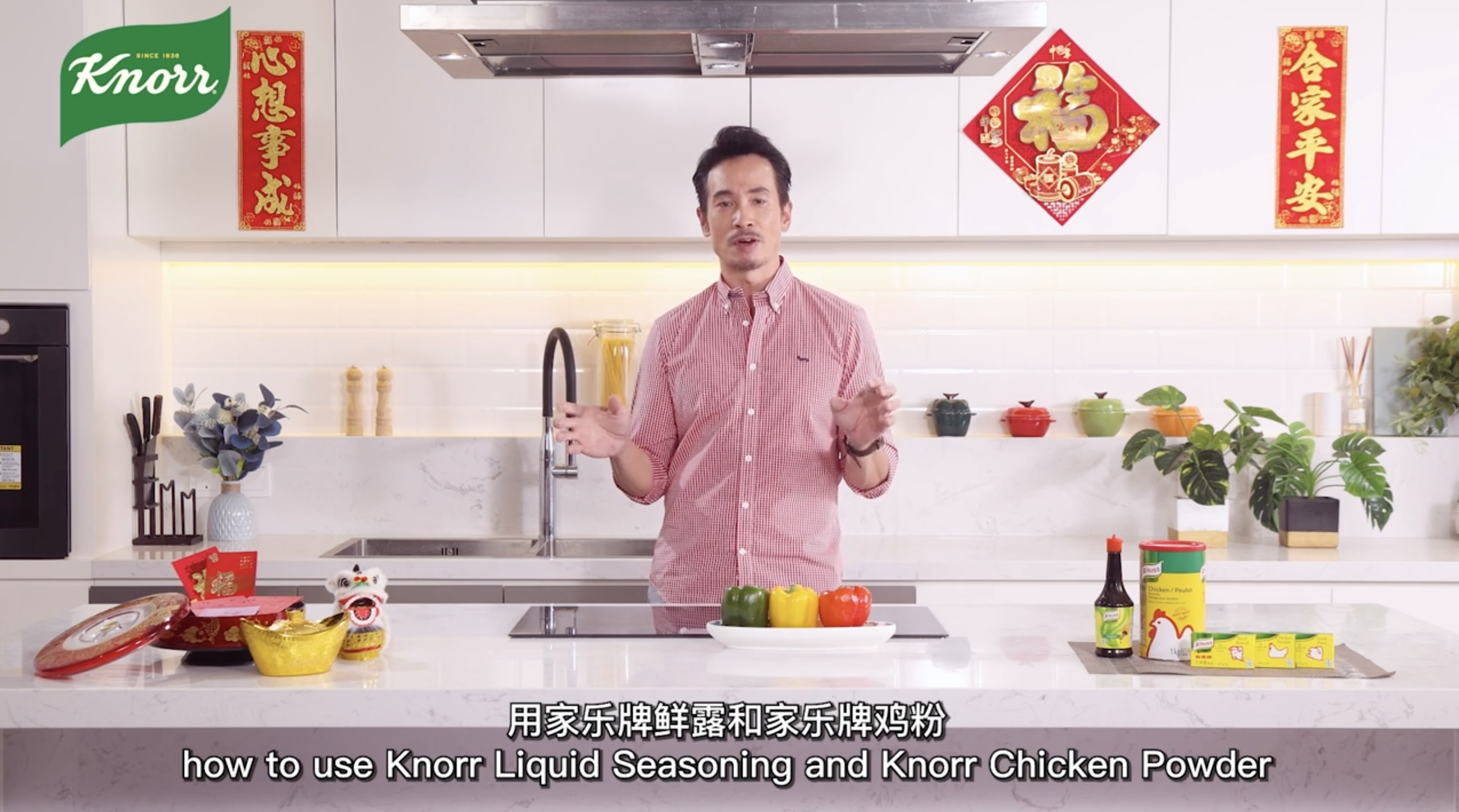 Knorr's Branded Channel

In 2021, Knorr was the first brand that set up a branded channel on iTalkBB TV's digital platforms. Knorr's high-quality, culturally felicitous cooking shows were big hits with iTalkBB TV's audiences. iTalkBB Media was one of the major media contributors that helped Knorr to generate thousands of entries to the sweepstake events.
For the 2022 LNY campaign, iTalkBB Media assisted Knorr to launch 5 new cooking shows on Knorr's existing branded channel. By placing Knorr's branded channel on the recommendation list under iTalkBB TV's "Original Content" and "Trendy Topic" categories, it generated a total of 12 thousand views aligned with 300+ hours of viewing time within only one month. The successful delivery of Knorr's content has driven a significant conversion rate to enter the sweepstakes event.
About Branded Channel

The branded channel is a unique marketing solution that offers advertisers an exclusive environment to showcase their brand messages. Customized content curations for advertisers to build their exclusive channel to contain their original videos, influencer collaboration videos, and more, whether the content is the brand's self-made videos or iTalkBB Media's productions. Available on iTalkBB TV digital platforms only.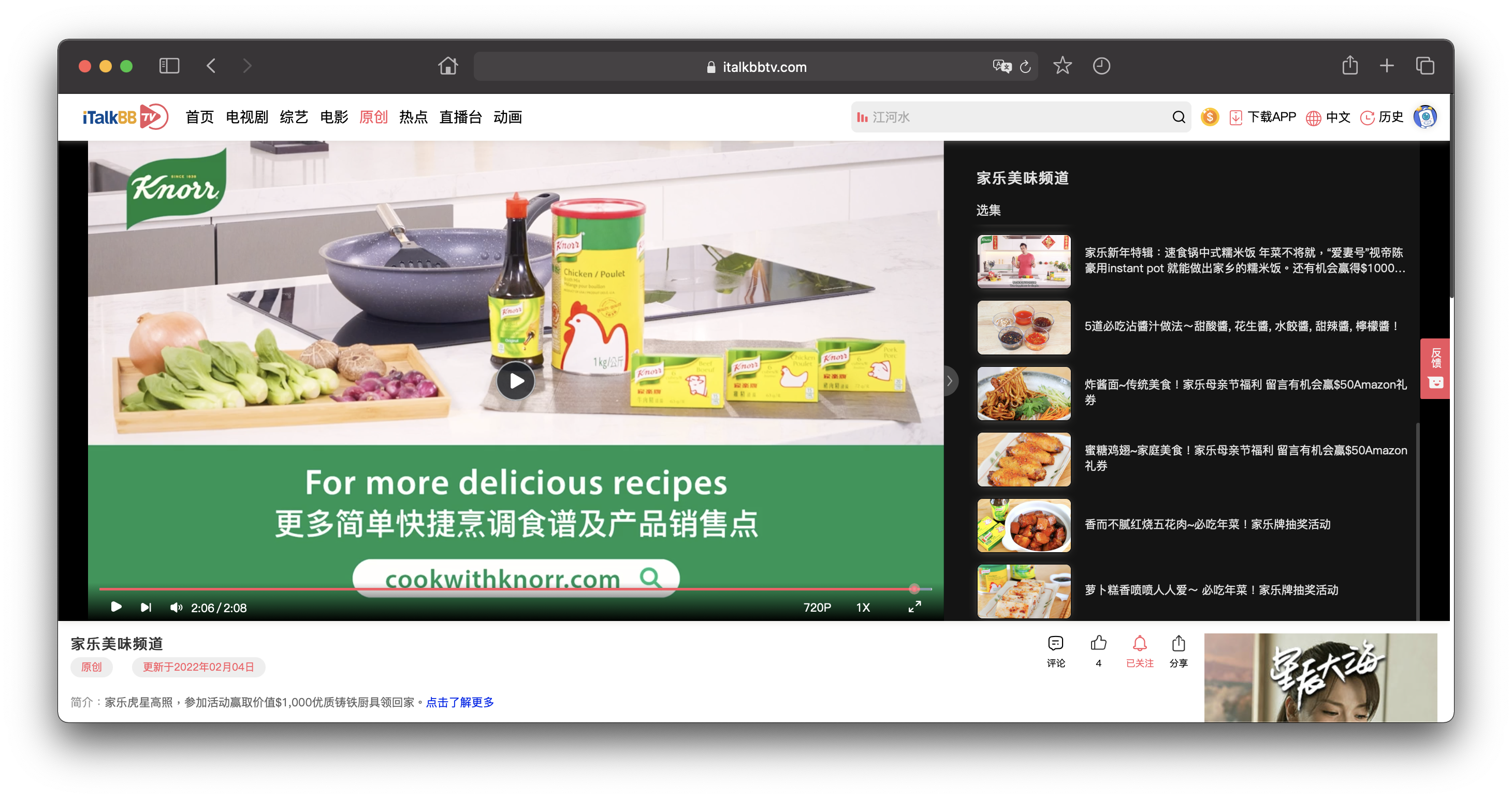 ---

iTalkBB Media is a leading marketing and advertising source offering unique advertising opportunities to businesses penetrating the Chinese consumer market in North America. As a member of the iTalk Family Companies, it has exclusive advertising rights for placement of advertising on its affiliate companies' state-of-the-art Set-Top-Box (iTalkBB Chinese TV) and streaming (iTalkBB TV) Chinese language platforms (the "iTalk TV Platforms").
iTalk TV Platforms are the largest licensed Chinese-language television and streaming services in North America. iTalk TV Platforms are boutique ad-supported video-on-demand (AVOD) platforms with options of free and subscription tiers offering various Chinese streaming content through their Set-Top-Box platform and digital platforms on the web and mobile app versions. By reaching 2 million users, the services entertain audiences with a curated collection of movies, TV shows, original content, and in addition to 30+ live streaming channels.
iTalkBB Media provides a wide range of multi-formatted advertising solutions for businesses to make their brands even more visible. Our enhanced ad-viewing experiences allow marketers to explore new-found interactive campaign formats with data-driven processes. To learn more, please don't hesitate to contact our representatives. Contact Us