Lexus' drama entitlement sponsorship campaign has created an exceptional immersive ad-viewing experience by implementing in-content ads that deepened Lexus' brand recognition.

Background

Lexus is one of the largest Japanese luxury automobile brands in the world. Experience Amazing, as Lexus positioned itself as a high-end auto brand, its mission of offering exceptional customer experiences has driven its impact to empower people's lives.
The all-new crossover vehicle, Lexus NX, represents the company's vision of "NX Level" which juxtaposes the performance and technology of the new NX with humans' powerful athleticism. In order to reach younger buyers in Gen Y and Gen Z, Lexus heavily implements streaming and digital campaigns in this launch.
Experience Amazing, is not just the goal that's crafted for the vehicle buyers, but the communities around. Lexus takes all kinds of experiences into its business objectives, including marketing and advertising.
As the largest Chinese streaming content provider in North America, iTalk TV Platforms not only can reach over 2.6 million Chinese cultural audiences based in North America but was able to create an exceptional immersive ad-viewing experience.
Campaign Summary- Drama Entitlement Sponsorship with In-Content Ads
In the Lexus 2022-NX campaign, Lexus strategized with iTalkBB Media's newly launched ad product, in-content ad, to reinforce its brand recognition and awareness. In-content ad is an advertising technology that inserts advertisers' promotional footage directly into program content at recognizable placements such as billboards, buses, web browsers, etc.
Target Audiences
"The NX is going to set the stage for the next chapter of the Lexus brand. We are counting on it, frankly, to bring in a younger buyer. These younger buyers are approaching luxury in a new way," said Vinay Shahani, vice president of Lexus marketing.
Lexus NX strategizes to attract "Gen Y and Gen Z luxury buyers who tend to be more diverse, more affluent, and more interested in technology and innovations," said Vinay. To match the audience demographic, iTalkBB Media suggested Luxes launch the campaign to integrate with the latest modern Chinese drama, Legally Romance.
Legally Romance is a novel screenplay adapted series describing a time-traveling romance story between a couple who are in relationships of boss/employee and classmates. This series is targeted at affluent, young Asian professionals who are aged between their late 20s to 40s, either single individuals or newly married families. The series was a perfect selection to match Lexus NX's target groups.

In-Content Ads Implementation
The in-content ad is an ad format that is executed in post-production through AI technology to match perfect moments and ad slots for a brand to connect with the target audience. Lexus has chosen a total of 15 slots in 12 episodes to insert the ads directly and seamlessly into the program content.
The in-content ads provide an option for advertisers to promote their brand and products with zero interruptions and greater brand recalls. It doesn't just enhance the ad-viewing experience but strongly connects with audiences on an emotional level which has a higher potential to increase the brand favorability and conversion rate.
iTalkBB Media takes care of the program licensing with the production team, coordinating the post-production with the ad-insertion team, and finally broadcast on iTalk TV platforms.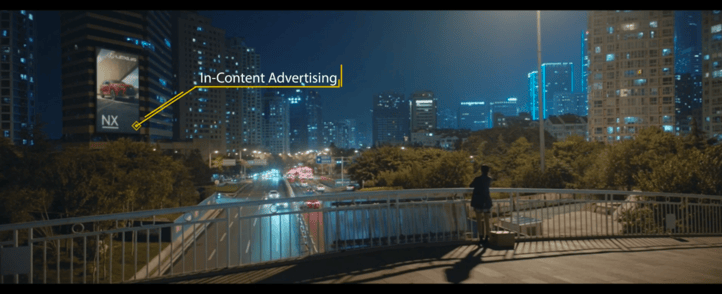 Media Planning Scope

While Lexus centered the In-content ads in the NX campaign, it also implemented all types of iTalkBB Media's marketing solutions. Ads on sponsored drama programs included video commercials, branding teasers, pause banners, and multiple static ad placements.
Besides the regular ads, Lexus NX also launched several campaigns beyond ads, including logo-attached program teasers, clips, banners on social channels, email newsletters, messaging posts on WeChat official accounts, and iTalkBB's physical store display.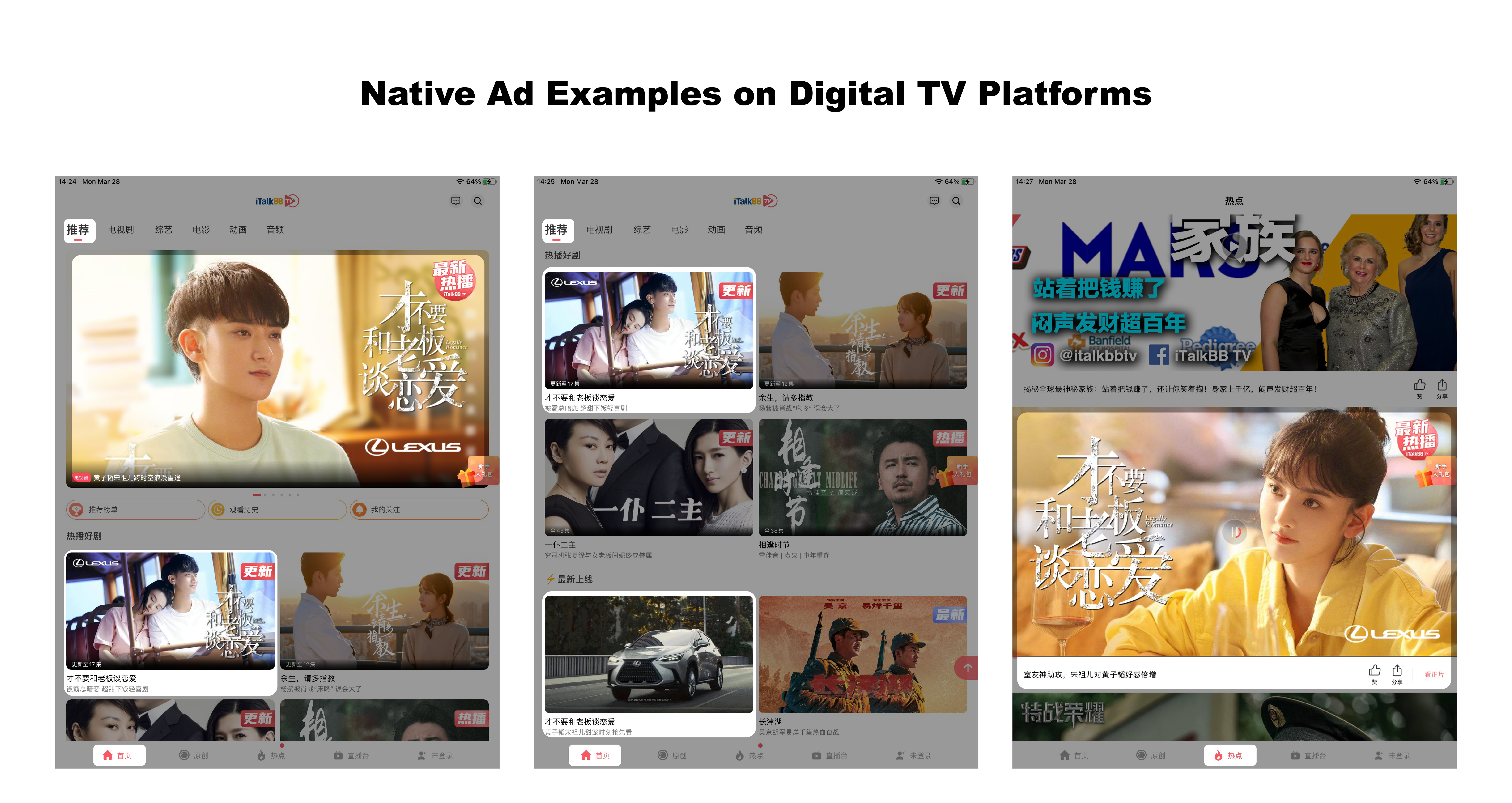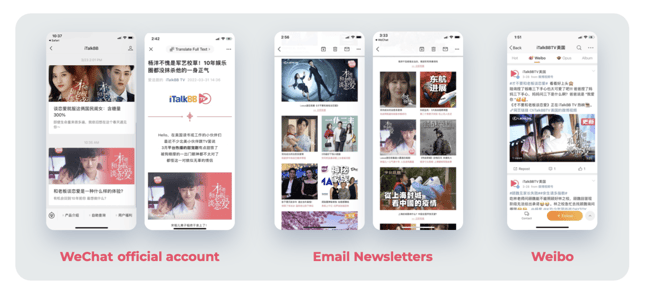 "Lexus strategized with iTalkBB Media's newly launched ad product, in-content ad, the advanced ad-viewing experience that strongly connects with audiences on an emotional level which created a higher potential to increase the brand favorability and conversion.

---

iTalkBB Media is a leading marketing and advertising source offering unique advertising opportunities to businesses penetrating the Chinese consumer market in North America. As a member of the iTalk Family Companies, it has exclusive advertising rights for placement of advertising on its affiliate companies' state-of-the-art Set-Top-Box (iTalkBB Chinese TV) and streaming (iTalkBB TV) Chinese language platforms (the "iTalk TV Platforms").
iTalk TV Platforms are the largest licensed Chinese-language television and streaming services in North America. iTalk TV Platforms are boutique ad-supported video-on-demand (AVOD) platforms with options of free and subscription tiers offering various Chinese streaming content through their Set-Top-Box platform and digital platforms on the web and mobile app versions. By reaching 2 million users, the services entertain audiences with a curated collection of movies, TV shows, original content, and in addition to 30+ live streaming channels.
iTalkBB Media provides a wide range of multi-formatted advertising solutions for businesses to make their brands even more visible. Our enhanced ad-viewing experiences allow marketers to explore new-found interactive campaign formats with data-driven processes. To learn more, please don't hesitate to contact our representatives. Contact Us