---
The Internet has created tons of opportunities for many industries and has a profound impact on how we engage with videos. It changed the way people consume video content and services, as technology becomes more advanced. In this article, we are going to introduce some commonly used terms in the OTT industry.
What is OTT?
Over-the-top (OTT) services refer to streaming content that is consumed on digital devices (mobile phone, tablet or desktop), and Connected TV(CTV) devices, delivery of videos through internet-connected televisions.
According to Telestream, the term itself implies that a content provider is going over the top of existing internet services. People have several options at their fingertips to view content on different platforms such as smart TVs, computers, tablets, mobile phones, or gaming consoles.
Users no longer need to subscribe to traditional cable or pay-TV services to watch their favorite programs. The movies and TV shows can also be downloaded and viewed on users' demand at any time, anywhere.
CTV (Connected TV)

CTV refers to the delivery of video content to televisions through internet-connected devices or functionality within the television. As technology has evolved, users no longer need to connect their TV with cables to view content. They have the option of choosing to connect with wifi to browse on gaming consoles or streaming platforms other than traditional TV channels.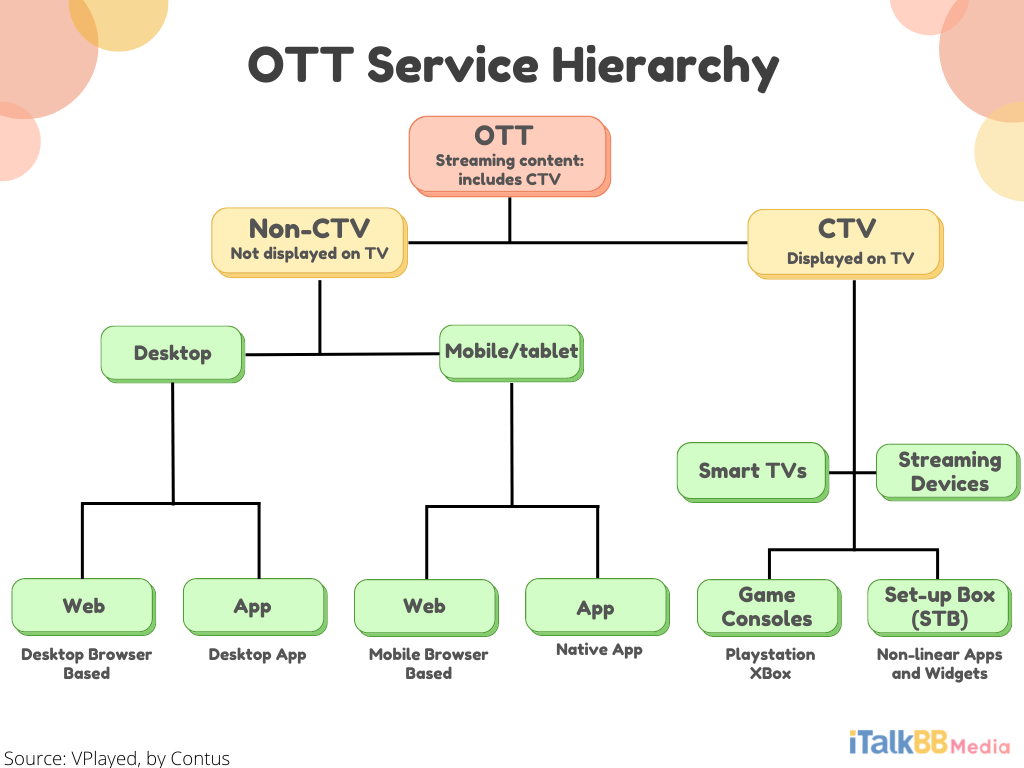 ---
Video-on-demand
By streaming or downloading the programs, we can watch them at our desired times. The term Video-on-demand (VOD) refers to the concept of being able to view the content whenever and wherever. According to Imagen, "OTT is a subset of VOD, which also includes cable and satellite services."
Business Model
Based on the types of revenue model, the common terms used to describe the services are SVOD, TVOD, and AVOD.
SVOD (Subscription-based Video-on-demand)
SVOD allows customers to view the contents by paying a fixed price every month. The main business model for the stream platforms is based on the subscription segment, which accounted for more than 43% market share. This is due to the increasing number of subscription-based video streaming platforms.
TVOD (Transactional Video-on-demand)
TVOD is the opposite of SVOD. The way it monetizes is to sell content on a pay-per-view basis. People who are interested in the content can pay a price and watch it at any time. The two sub-categories are electronic sell-through (EST) and download to rent (DTR). The former is to pay once to gain permanent access to a piece of content whereas the latter allows customers access to a piece of content for a limited time for a cheaper price.
In general, TVOD services offer more recent releases and retain customers by offering attractive price incentives. Examples of TVOD services include Apple's iTunes, Sky Box Office, and Amazon's video store.
AVOD (Advertising-based Video-on-demand)
Unlike SVOD and TVOD, AVOD usually offers free or lower price subscription content, where the primary revenues are generated based on the number of ad impressions (views).
According to the State of Streaming, Americans are adopting ad-supported streaming services faster than non-ad-supporting subscription-based streaming services. With the large amount of money that the advertiser is paying, this segment is gradually growing to a significant share of the market.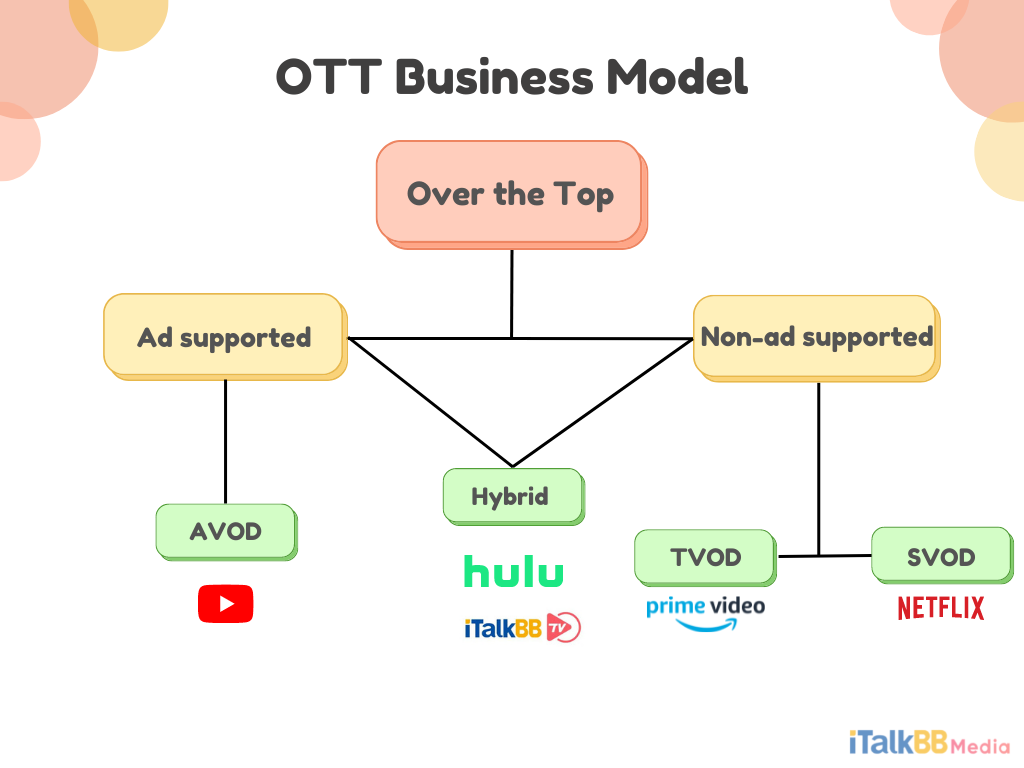 As more functionality and business models emerge, the lines between OTT and VOD have become blurry due to the natural progression of the video industry. There are no significant differences between AVOD, SVOD, and TVOD services while many streaming platforms apply the hybrid model.
On one hand, VOD has become popular due to the flexibility to watch videos on one's own time. On the other hand, OTT has made broadcasting cheaper and more efficient for businesses and consumers because most people have a WiFi router at their house.
Conclusion

OTT services not only change the way people consume video products or services but also change the revenue model behind the scenes. The growing potential in the OTT industry also creates many marketing opportunities tailored to individual preferences.
While iTalk TV Platforms have applied the hybrid business model of AVOD and SVOD, the heart of the platforms remains the ad-supported model. iTalkBB Media is able to serve the ads on iTalk TV Platforms to help you target the niche audience base that focuses on the Chinese American Community.
Multiple ad formats and placements are available either seamlessly merge into the content or appear where consumers can see throughout the platforms. Consider iTalkBB Media in your next marketing mix and start your ad journey that meets your target audiences today.
---

iTalkBB Media is a leading marketing and advertising source offering unique advertising opportunities to businesses penetrating the Chinese consumer market in North America. As a member of the iTalk Family Companies, it has exclusive advertising rights for placement of advertising on its affiliate companies' state-of-the-art Set-Top-Box (iTalkBB Chinese TV) and streaming (iTalkBB TV) Chinese language platforms (the "iTalk TV Platforms").
iTalk TV Platforms are the largest licensed Chinese-language television and streaming services in North America. iTalk TV Platforms are boutique ad-supported video-on-demand (AVOD) platforms with options of free and subscription tiers offering various Chinese streaming content through their Set-Top-Box platform and digital platforms on the web and mobile app versions. By reaching 2 million users, the services entertain audiences with a curated collection of movies, TV shows, original content, and in addition to 30+ live streaming channels.
iTalkBB Media provides a wide range of multi-formatted advertising solutions for businesses to make their brands even more visible. Our enhanced ad-viewing experiences allow marketers to explore new-found interactive campaign formats with data-driven processes. To learn more, please don't hesitate to contact our representatives. Contact Us