---
Are you struggling with finding the Chinese American audience?
You've got us covered. iTalkBB Media Inc. ("iTalkBB Media") is a leading source for marketers to effectively penetrate the Chinese American market in North America. It offers a wide range of integrated marketing solutions and unique advertising opportunities for brands and businesses to find their customers through video-on-demand streaming services on the iTalk TV Platforms and multiple marketing channels.
Founded in 2013, iTalkBB Media has earned a distinguished reputation and a remarkable track record through the effort of its dedicated team of professionals. Over the years, iTalkBB Media has successfully launched 2,000+ campaigns that delivered over 500 million impressions by collaborating with 50+ agency partners and 200+ advertisers. Some of the global and fortune brands include Lexus, BMW, Toyota, State Farms Insurance, McDonald's, Walmart, Chase Bank, Unilever, Brita, Johnson and Johnson, Knorr, Tylenol, New York Life Insurance, and many more.
The niche yet valuable market that you've been looking for

According to Forbes, Asian American households have a 41% higher average income than the national average. As the third-largest ethnic market in the US, Chinese-Americans spend an estimated $117 billion annually which is known as one of the most affluent ethnicities in the US.
"With the growing Chinese population in the United States, it's becoming more important than ever for brands to meaningfully engage Chinese Americans across media channels," highlighted Eastward media.
Eastward media segmented the Chinese Audiences into three functional consumer groups: Newcomers, Establishers, and Assimilated. In particular, Assimilated Chinese-Americans are immigrants who have more than ten years of residence in the US or are the children of immigrants. From a marketing perspective, Assimilated Chinese-Americans reflect general market trends, but they also pay attention to content that ties with their heritage.
72% of Asian American Consume In-language News and 68% Consume Entertainment

To penetrate this unique audience base, here's why advertisers should not exclude the in-language media from their marketing mix. Tony Li, the Media Supervisor of Admerasia presented at the 2022 3AF annual summit and indicated that 82% of Asian Americans subscribe to at least one streaming service. Specifically, 72% of them consume in-language news and 68% of them consume in-language entertainment.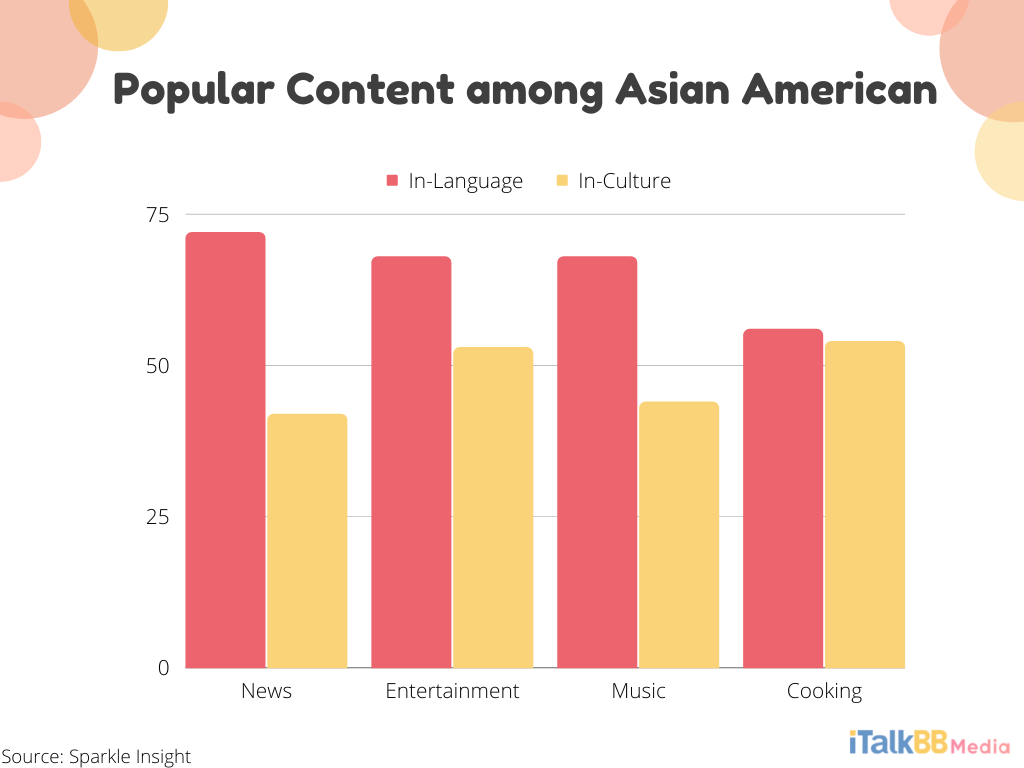 In-language content addresses the needs of primarily foreign-born Americans as they want to stay connected with their roots despite pursuing another life in the United States. On average, viewers over the age of 35 years old view 37 hrs of in-language media content per week, according to the same report. This result is interrelated with the cultural dependence of Asian Americans.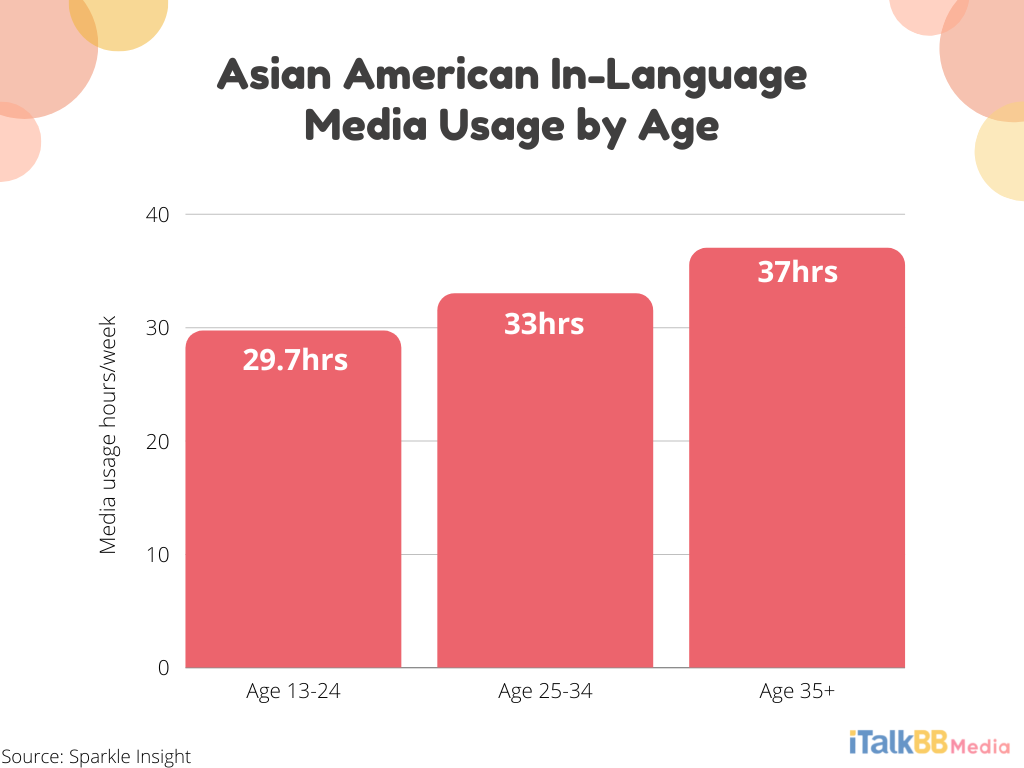 The largest Chinese In-language media in North America

The iTalkBB Group of Companies is one of the most recognizable Chinese-owned brands in North America. With almost two decades of experience in the telecommunication and entertainment streaming industry, the iTalkBB Group of Companies has cultivated a strong niche market. The in-language products and services provide the needs of many overseas Chinese-Americans. One out of six Chinese families in North America has been a customer of one or more of the iTalkBB Group of Companies.
The iTalk TV Platforms currently have 1.82 million users in the US alone and nearly 800 thousand users in Canada. While a lot of Chinese consumers in North America retain the habit of using Chinese mainland publishers' video streaming services such as iQiyi, Tencent Video(QQ), and Youku, the iTalk TV Platforms still have a large market share in the North America Market.
The iTalk TV Platforms represent the largest licensed Chinese content provider with a vast collection that includes tv series, movies, variety shows, live channels, and much more. Users can access the iTalk TV Platforms from the TV set-top-box as well as websites, tablets, and mobile devices.
iTalk TV Platforms' User Profile
Demographic trends show that a significant percentage of recent Chinese immigrants hold advanced education levels and earn a high household income, resulting in strong purchasing power.
.80% of the iTalk TV Platforms' audience are assimilated Chinese Americans that have lived in the US for 10 or more years.
.The average household income of iTalk TV Platforms users is estimated at $109,999, which is higher than the average Asian American household income of $93,759.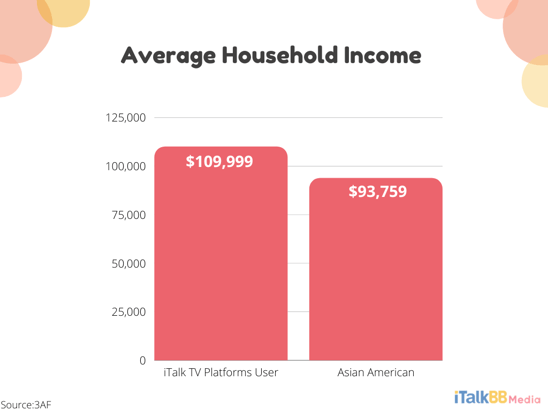 .52% of iTalk TV Platforms' viewers are female, while the remaining 47% are male and 1% of other gender identities.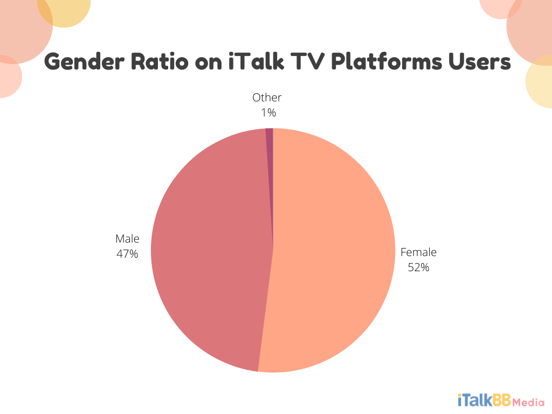 .On iTalkBB Chinese TV's Set-Top-Box (STB) platform, 65% of the audience are aged 55 or higher and are most likely the first generation immigrants in the generation of Baby Boomers. 24% of them aged between 45-55 years old are in Gen X.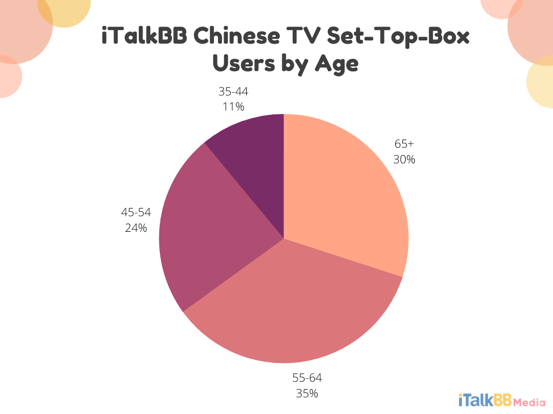 .iTalkBB TV's digital platforms (website & apps) have 61% of audiences aged 18-44 years old, who are defined as second-generation immigrants or foreign students/workers in the generation of Millennials and Gen Z. 14% aged 45-55 years old are in Gen X.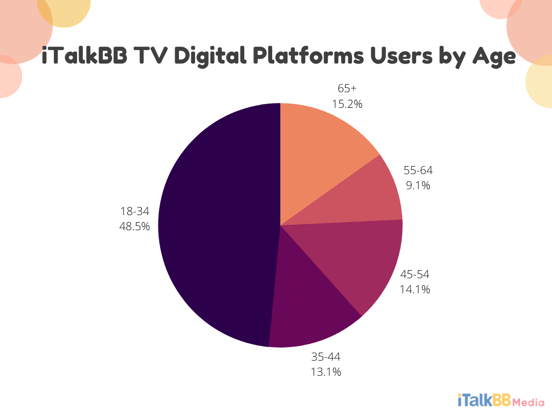 iTalkBB Media's marketing solutions and ad technologies that marketers loved about
With the exclusive rights to broadcast ads on iTalk TV Platforms, iTalkBB Media provides a wide range of advertising formats and strategic solutions for marketers to meet their marketing deliverables. The most popular ad formats include non-skippable pre-roll video ads, clickable display ads, innovative in-content ads, and interactive yet creative native ads.
iTalkBB Media has integrated its ad technology with Google Ad Manager 360 empowering marketers to accurately target the right audience and receive detailed campaign insights data to evaluate the performances.
Beyond ads, iTalkBB Media also provides integrated marketing solutions through newsletters, social media posts, and in-store promotions. In addition, the loyalty program- Reward Center operated by an affiliate iTalkBB company gives advertisers opportunities to promote their brands and products.
Constantly Thriving & Innovating

The post-covid era has boosted the demand for video-on-demand services, people spend more time at home with families enjoying streaming content. As a leading Chinese language TV provider in North America, iTalk TV Platforms aim to make our Chinese American customers feel like home is not so far away. The iTalkBB Group of Companies stay connected with their viewers by nurturing the latest in-language entertainment programs.
iTalkBB Media never stops innovating to better engage with the audiences. In 2022, the newly launched in-content ads and co-branding solution in iTalkBB TV's Reward Center came into the marketer's favor. Several case studies have highlighted the success of these campaigns.
iTalkBB Media thrives to act as the advertiser's best ethnic media partner to help reach the large Chinese American community. Contact us now to get your journey started with iTalkBB Media. Together, we go beyond and above to reach your next business peak!
---

iTalkBB Media is a leading marketing and advertising source offering unique advertising opportunities to businesses penetrating the Chinese consumer market in North America. As a member of the iTalk Family Companies, it has exclusive advertising rights for placement of advertising on its affiliate companies' state-of-the-art Set-Top-Box (iTalkBB Chinese TV) and streaming (iTalkBB TV) Chinese language platforms (the "iTalk TV Platforms").
iTalk TV Platforms are the largest licensed Chinese-language television and streaming services in North America. iTalk TV Platforms are boutique ad-supported video-on-demand (AVOD) platforms with options of free and subscription tiers offering various Chinese streaming content through their Set-Top-Box platform and digital platforms on the web and mobile app versions. By reaching 2 million users, the services entertain audiences with a curated collection of movies, TV shows, original content, and in addition to 30+ live streaming channels.
iTalkBB Media provides a wide range of multi-formatted advertising solutions for businesses to make their brands even more visible. Our enhanced ad-viewing experiences allow marketers to explore new-found interactive campaign formats with data-driven processes. To learn more, please don't hesitate to contact our representatives. Contact Us