---
How do companies maximize the value of their marketing dollars in the OTT industry? What is the best way to reach the target audience? Here are some essential things you need to know about OTT advertising.
What is OTT advertising?
According to Tinuiti, over-the-top (OTT) advertising is delivered directly to viewers over the internet through streaming video services or devices. It allows media companies and advertisers freedom of movement without traditional pre-planned broadcast schedules or geographic limitations.
The three roles that form the ad-supported video-on-demand (AVOD) model are publishers, advertisers, and viewers. Viewers are the medium between publishers and advertisers. They are the main consumers in the AVOD business model because they come to watch content while the advertisers pay for their attention when they are watching ads.
Why are brands investing in OTT advertising?

The most straightforward answer to this question is that OTT video disrupted the TV industry. People now spend more time on OTT/streaming platforms as they shift from traditional cable TV. With the growing capabilities in scaling in the industry and data-centric driven targeting, the OTT platform serves as a channel that can meet the needs of both marketers and consumers. Brands can leverage the advantages of OTT video as a funnel performance channel that can engage and direct customers through the entire marketing funnel.
Benefits of OTT advertising

Advertisers are shifting their budgets to OTT ads not only based on the industry trend in streaming services, but there are several specific benefits that help them target their audience efficiently and precisely tailored to their preferences via audience segmentation, user tracking capabilities, and unobtrusive presentation.
Audience Segmentation
Unlike regular TV commercials that broadcast the same message to everyone who watches a particular channel, advertisers use OTT platforms to deploy ads to individual users and segment audiences based on the data they generate using streaming services.
The target audience of particular ads can elevate the level of specificity in advertising. Advertisers can target people based on their demographics, past usage, and more. Therefore, brands can measure their success according to the performance indicators. Overall, ads on OTT offer potent advantages over traditional cable TV.
User Tracking Capabilities
Advertisers can access information about user engagement, such as how many viewers clicked an ad and how many of them skipped it. OTT advertisers can also prevent skipping to ensure the target can be reached. Users can respond to a personalized ad that addresses their needs immediately because many of them watch OTT content on mobile devices.
Advertising on an OTT platform allows advertisers to get access to the audience therein and assess their engagement with the brand's content, and thus adjust marketing tactics. While the personalized OTT content allows advertisers to track viewer behaviors, it also motivates them to make better ads and display them to more active viewers.
Unobtrusive Presentation
Although advertisers can choose to place ads to interrupt content while viewers are watching, many viewers are not pleased about it. Flexible ad options range from banners and skippable video ads in any linear, live, and on-demand streaming. Advertisers can choose to display ads to deliver value instead of intruding on user experience.
Ad formats in OTT advertising
In-stream Ads
In-stream ads, also known as video ads, are an advertising format tailored to video content. By using data gathered from different channels that viewers are watching, advertisers can choose to display content based on a more complete profile of the individual they are targeting. In-stream ads appear before, during, or after the content. Based on the order they appear, the ads are called pre-roll, mid-roll, or post-roll ad placements within a video.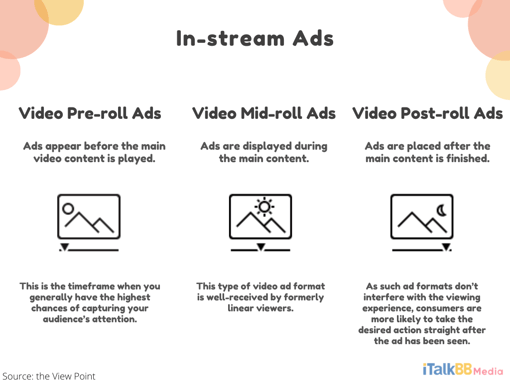 In-stream video ads can be further divided into skippable and non-skippable ads. Skippable ads have a better viewer experience among users because this ad type doesn't force them to watch the ad until the very end.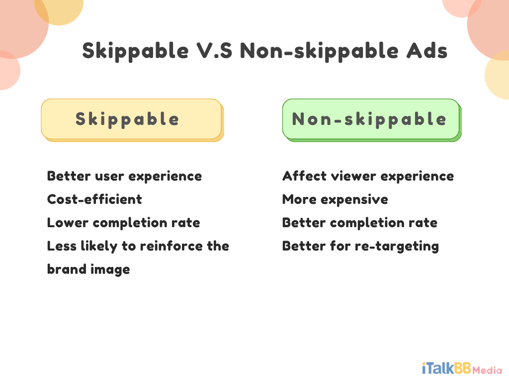 While skippable ads cost less and can reach more audiences, they tend to have a lower completion rate due to the options viewers are given to skip watching. Non-skippable video ads forced viewers to watch up until completion before resuming the content. However, non-skippable ads are the most effective way of video advertising in personalized marketing communications.
Display Ads
Display ads are usually a good way to attract viewers to a website or an app. Display ads are often made up of text-based images to encourage users to click through to a landing page. Display ads come in multiple sizes and formats:
Banner Ads: One of the traditional forms of advertising consists of multiple sizes and placements on a webpage. With advanced technology, they can be presented in static images, GIFs, or rich media formats.
Interstitial Ads: These ads serve at a transition point that takes over the web pages or apps. They appear before or while viewers are being directed to the original page they requested.
Native Ads
The concept of native advertising is to place ads in a relevant and unobtrusive context where they natively fit. Native ads succeed by blending in with organic content in a seamless way. Usually, there are plenty of slots available for native ads to be placed on search, in-feed, and open-web where personalized content appears on the website.
In-content Ads
In-content advertising is ads that seamlessly embed the advertising communication of brands into the content at the post-production phase. According to Advertising and Media Insider, the in-content ad is deemed to be the most cost-effective and operationally efficient process in branded content integration. Consumers can not distinguish it from organic content marketing.
The greatest advantage of in-content ads is that it does not rely on search or discoverability. Check out our case study to learn more about iTalkBB Media's in-content ad.
Conclusion

With OTT advertising, advertisers have more flexibility and can react in a timely manner when distributing ads. In addition, advertisers can aim for a more focused group and can analyze the results thereafter. iTalkBB media offers all of the ad formats mentioned above. Integrating different ad formats on various platforms serves as a marketing funnel to build brand awareness and strategically direct consumers to take action.
In particular, in-content ads are the up-and-coming ads as technology has developed to seamlessly merge the lines between ad content and viewer experience. With the pioneering technology that inserts the brand's promotional footage directly into program content at recognizable placements such as billboards, buses, web browsers, etc, iTalkBB media is confident to provide the best viewing experience.
---

iTalkBB Media is a leading marketing and advertising source offering unique advertising opportunities to businesses penetrating the Chinese consumer market in North America. As a member of the iTalk Family Companies, it has exclusive advertising rights for placement of advertising on its affiliate companies' state-of-the-art Set-Top-Box (iTalkBB Chinese TV) and streaming (iTalkBB TV) Chinese language platforms (the "iTalk TV Platforms").
iTalk TV Platforms are the largest licensed Chinese-language television and streaming services in North America. iTalk TV Platforms are boutique ad-supported video-on-demand (AVOD) platforms with options of free and subscription tiers offering various Chinese streaming content through their Set-Top-Box platform and digital platforms on the web and mobile app versions. By reaching 2 million users, the services entertain audiences with a curated collection of movies, TV shows, original content, and in addition to 30+ live streaming channels.
iTalkBB Media provides a wide range of multi-formatted advertising solutions for businesses to make their brands even more visible. Our enhanced ad-viewing experiences allow marketers to explore new-found interactive campaign formats with data-driven processes. To learn more, please don't hesitate to contact our representatives. Contact Us